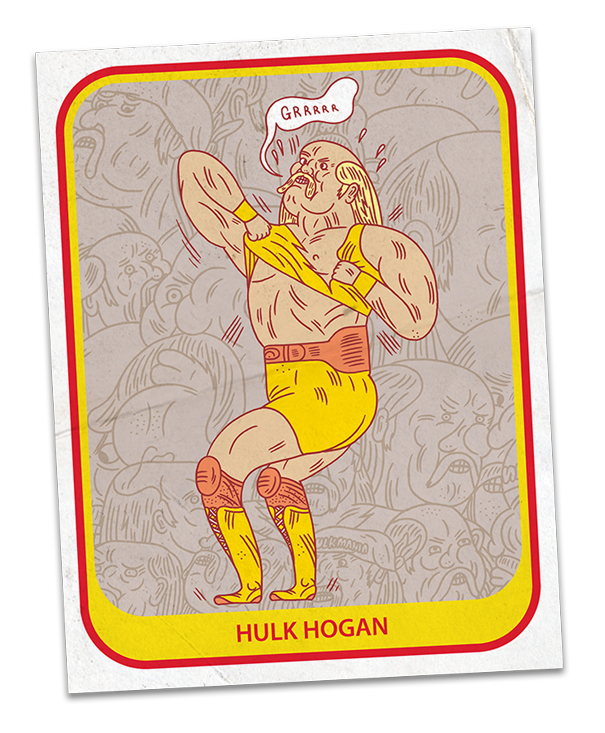 Who was your favourite wrestler and why?
I would have to say Hulk Hogan for his wonderful cameo in Gremlins 2!
If you ever found yourself in a situation where you were about to head down to the ring and engage in combat, what song do you think you would use as you entrance theme?
This is not a fantasy I regularly have… Though the theme tune to 'Rhubarb and Custard' has a nice bouncy kind of vibe going on.
Who are some of your favourite contemporary illustrators and artists?
I like Marcus Oakley, Stephanie Unger, Arne Bellstorf, Paul Paetzel, Jesse Moynihan, Jim Stoten, Ana Albero and everyone. Basically, I like everyone!
Presumably, you have a 'Nerd Cave' of your own, but what are the top three unusual or precious items stored within your cave?
My 'Nerd Cave' is a total mess, but I would have to say the artwork my children make to decorate the walls is pretty special to me and I am still super fond of my 'Star Wars' action figures. I have a pretty stacked bookcase that I often delve into.
Do you have a spirit animal? If yes, what manner of beast is it?
My illustrator friend Matthew Hodson and I gathered a group of artist's together a while back for a collaborative tee-shirt project called 'Spirit Of The Animal'. My design was based upon the powerful and majestic hedgehog!